Creator Information
Wilde, Christopher K.
Collaborator
Wagner, Mark (Box and collage)
Preview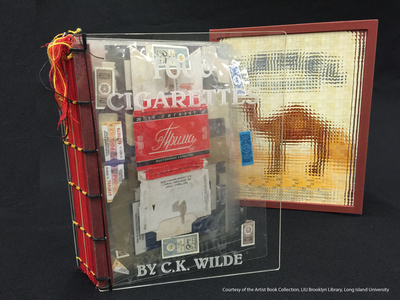 Description
Plexiglas book. Pages are laminated with collage elements embedded. Collage elements comprised of debris from smoking 50 packages, a total of 1000, of Camel cigarettes including cigarette butts, match-book covers, burnt matches, ashes, and smoke. Book is Coptic bound with various colored threads. The front cover of the book is laser-etched with the title; the back cover is laser-etched with the name of the press. Dimensions: Book 29 x 22.5 x 6 cm. Container/box 32 x 25.5 x 9 cm. Unique, one-of-a-kind. The box cover and internal tray are made by Mark Wagner. The cover is collaged from 1/4-inch slivers cut from packages of Camel cigarettes. These cut slivers are reconstructed to form the image of the camel and desert landscape as they appear on the package of Camel cigarettes.
Rights
The Artist Books Collection is owned and housed at the Brooklyn Campus Library of Long Island University. The copyright for these materials has not been transferred to Long Island University, but they are presented for non-commercial educational purposes pursuant to 17 U.S.C. § 107. Copyright resides with the creators of the materials contained in the collection, with their heirs and/or collaborators. The Library requests that users contact the original creators for permission to reproduce any images. The Library also requests that its patrons use the following line in any instances of digital reproduction: "Courtesy of the Artist Books Collection, LIU Brooklyn Library, Long Island University."