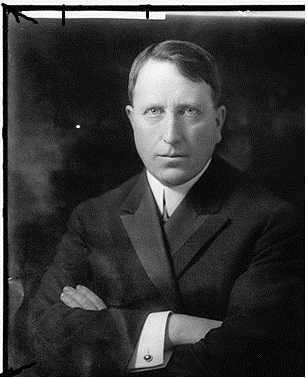 Creator Information
Anonymous
Preview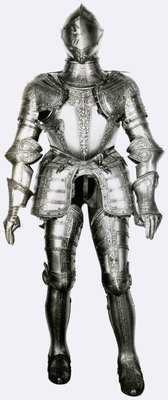 Date Information
16th Century
Description
The armor for the horseman consists of the following pieces: Closed Helmet - circumventing collar, bell with low-ridge, forehead roof and visor opens up, cheek-piece working sideways in hinge, with ear holes. Forehead roof and visor with lock. Feather-cup in the back.
Collar - With corded ridge, three-fold in front and back, small gorget and neckplate.
Shoulder Guards - Two-fold on the right, open arm tube, four-fold. On the shoulder two scroll designs with medallion center. Shoulderpiece same, left and right. On the front shoulder is block with thread, and on the upper arm whirl for re-enforcement.
Armpieces - Two armpieces, closed upper arm, revolving in their ridges, lower part two-fold, upper part three-fold. Closed elbow pieces with small mussel. Forearm tubes, two-fold in the upper part, open on the inside. Gauntlets - Sleeves out to the point, hand guard five-fold, thumb guard four-fold, knuckle iron with corded ridge and with closed fingers.
Breastplate - Goosebelly, neck and one-fold armpits with heavy corded ridge. Lance rest with deep iron cut, fold up. Belly-ridge removable by stick-attachment. Tassets - Four-fold with corded borders. Backplate - Light back with corded border. Thigh guards - (Known as Cuisses). Two, six-fold, knee-pieces with mussel, two-fold in the lower part.
Two greaves - To open at the side, pointed sollerets, three-fold up, foud-fold down. Spur with rowel, riveted on. Slightly beat up.
Buckler (shell) - Etched in radiating ribbons, leaf work with stone pine cone as center piece.
Provenance: Purchased by William Randolph Hearst through R. Bartel from Grafenegg Sale, Galerie Fischer, Lucerne, Switzerland, September 2, 1933 for $56,475.40; sold to Gimbel Bros., Inc., October 30, 1942 for $19,000.
Rights
Long Island University For information on reproductions for academic publishing or commercial use, contact Digital Initiatives Photo Services, 516-299-3504 or email Post-Digislide@liu.edu.
Source
Photograph, William Randolph Hearst Archive, S/B lot 1091, art #3, Album 6, p. 32